REFERENCE
---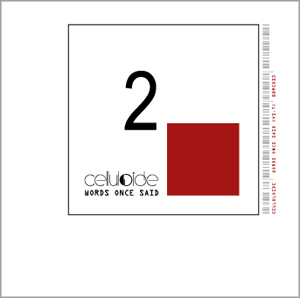 WORDS ONCE SAID

The design of the booklet of the CD is a re-arrangement of the cover of the children's book: "About two Squares: Suprematist story of two squares in six constructions" (strange name for a children's book).

The big '2' in the center of the image seemed very appropriated because of course it was the second album of the band. The red color used for the square was also perfect to evolve from Naive Heart's cold blue color.

Also, the CD artwork is not exactly the same as the original, as the logo of the band and the album title is written horizontally instead of using the angle of the original version (a the left of the '2').

At the right side of the black square, a barcode with album information was added, as an illustration of the projection of this 'futurist' vision into the electronic and computer age.

The whole design is put to the right of the white space, instead of being perfectly centered as on the original painting, to counterbalance the big black surface of the CD tray of the jewel box of the CD.